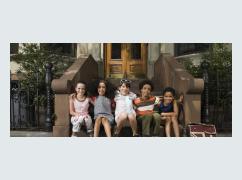 Promise Zones
Going Local: Place-Based Solutions to Combat Poverty
Tuesday, February 4, 2014
9:30am-12:30pm ET
Columbus Club at Union Station
50 Massachusetts Ave, NE
Washington, DC 20002
2/4 EVENT ADVISORY: Key Obama Admin Leaders Talk Poverty with PolicyLink
Washington, D.C. — On Tuesday, February 4, PolicyLink will host "Going Local: Place-Based Solutions to Combat Poverty."  PolicyLink Founder and CEO Angela Glover Blackwell will be in conversation with Domestic Policy Council Director Cecilia Muñoz, Secretary of Housing and Urban Development Shaun Donovan, Secretary of Education Arne Duncan, and Secretary of Agriculture Tom Vilsack about federal place-based programs as an effective means of reducing inequality and lifting communities out of poverty. 
Blackwell will also interview representatives from the new Promise Zones about their local efforts to address the interconnected challenges of poverty and give their communities a fair shot at success. 
SPEAKERS:
Cecilia Muñoz, Director of the Domestic Policy Council
Shaun Donovan, Secretary of Housing and Urban Development
Arne Duncan, Secretary of Education
Tom Vilsack, Secretary of Agriculture
Angela Glover Blackwell, Founder and CEO, PolicyLink
Judith Bell, President, PolicyLink
Local Leaders from the communities recently designated as Promise Zones
Promise Zones
On January 9, 2014, President Obama named the first five sites to receive "Promise Zone"designations: Los Angeles, San Antonio, Philadelphia, southeastern Kentucky, and the Choctaw Nation in Oklahoma.
The announcement came in a speech in which the President made it clear that Promise Zones represent the Obama administration's pledge to work with communities to give all children in our nation the chance to succeed. Building on the success of initiatives like Promise Neighborhoods, Choice Neighborhoods, Byrne Criminal Justice Innovation, and Stronger Economies Together, Promise Zones will bring together local elected leaders with leaders in business, education, housing, and other sectors, using a local plan for change in a designated area. 
Promise Zones will partner with local businesses to spur job creation, expand access to educational opportunities and affordable housing, increase economic security, and improve public safety. The five new Promise Zones have demonstrated results through one or more of the existing grant programs, and will now be able to do more to improve the lives of children and families in their communities.
PolicyLink has been honored to assist the Obama administration with its place-based initiatives, including in the outreach and development of Promise Zones,and to support several Promise Zone partners through the Promise Neighborhoods Institute at PolicyLink and our work on affordable housing, access to healthy food, and sustainable communities. We will continue to provide insight and support to the administration, and to help these communities succeed. This is exactly the kind of action we need to reduce inequality, advance equity, and promote economic vitality for all people.